$index = intval($_REQUEST["i"]); ?>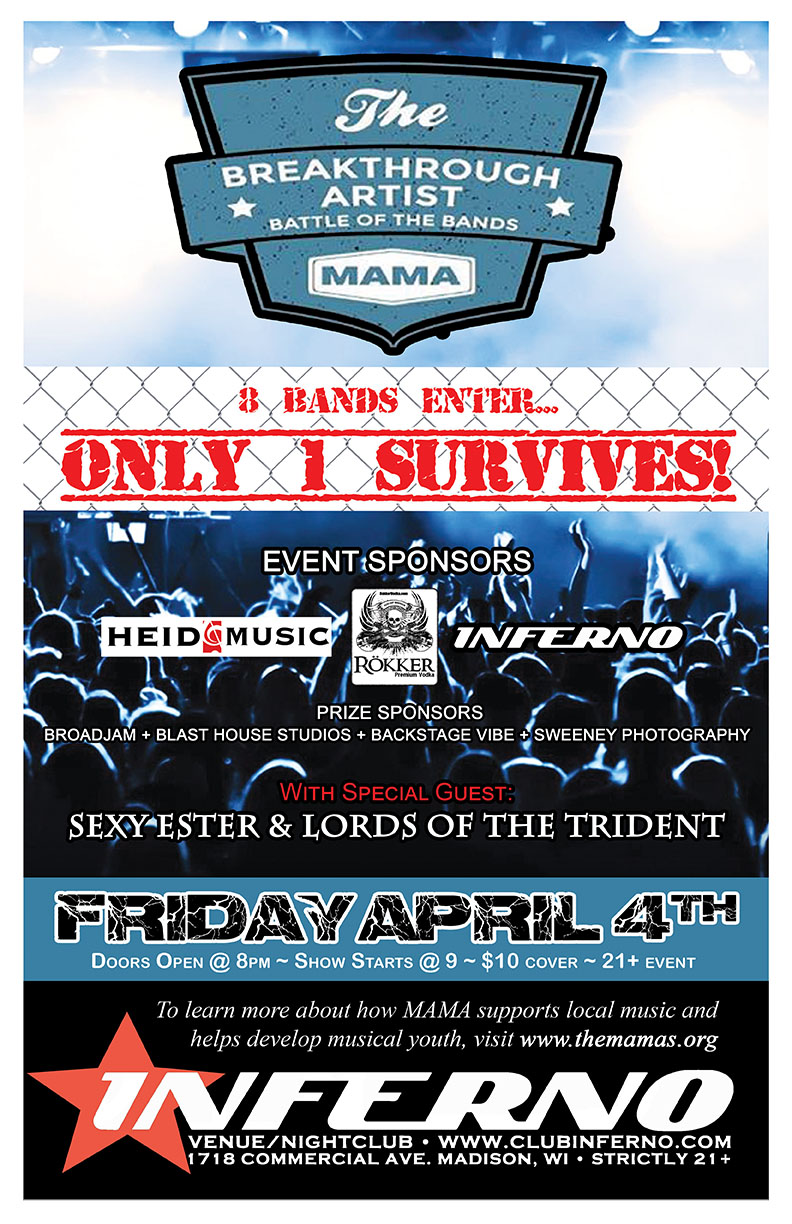 MAMA presents:
Breakthrough Artist Battle of the Bands
Friday April 4 2014
$10 TICKETS – DONATIONS WELCOME | 21 EVENT | Come out to our gracious hosts, the Inferno Nightclub, and join our sponsors Rökker Vodkaand Heid Music Madison, for the most epic battle for new artists of the year. Your emcee Fang Von Wrathenstein, professional barbarian will help bands gear up for a great night of battle -- each band gets 3 songs / 15 minutes to show their stuff -- and at the end of the night one of 8 bands will be left standing, and will receive the honorific breakthrough title, and a prize package including a slot to play at the awards show at the Overture June 22nd. Other prizes include great packages from broadjam, BackStage Vibe,Sweeney Photography, and Blast House Studios.

Along with our great 8 competing bands, our host bands Lords of the Trident and Sexy Ester will bookend the event with great sets, so you'll get the entertainment of 10 bands in one night for the low price of $1 per band! Come out and support your favorite and donate to help support youth music in the process.

The Final 8 contestants for the Breakthrough Artist Battle of the Bands will be announced earlier in the week at the Finalist Party, which is held at the Brink Lounge on Tuesday April 1st at 7pm. Once chosen, those bands will compete at this giant show, and will be judged both on their musicianship as well as their professionalism and entrepreneurial skills by great area industry professionals, including:

Doug Johnson from Yellow Phone Music Conference and Summerfest.
Pat Scully from the Illinois Festival Circuit.
Mary Sweeney music photographer extroardinaire and expert on stage performance.
Mike Olson of Blast House Studios and Madison Music Foundry.

So please come out, drink responsibly, and donate heavily to the Madison Area Music Association.
sun
mon
tue
wed
thu
fri
sat