$index = intval($_REQUEST["i"]); ?>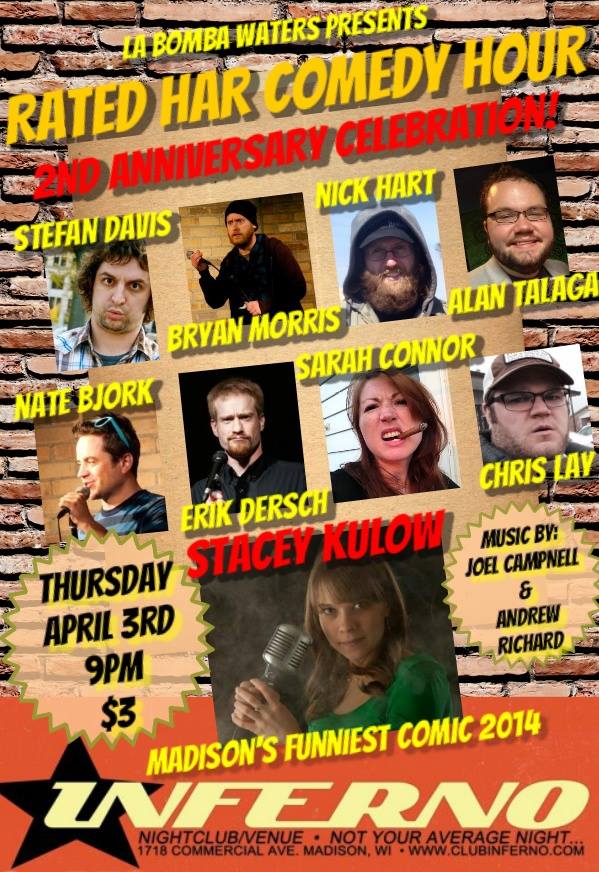 Rated Har COMEDY NIGHT - 2 year Anniversary!
Acoustic Music Before and after Comedians
Thursday April 3 2014
2nd Year Anniversary Rated Har Extravaganza!

Inferno celebrates TWO years of doing monthly Comedy!!

We have the honor of bringing you our past headliners all in one show which will make for the BIGGEST AND BEST Rated Har of all time!!

Headlining (Winner Madison's Funniest Comic 2014):
The lovely and one and only…Ms. Stacey Kulow!

Featuring:
Bryan Morris
Nick Hart
Stefan Davis
Alan Talaga
Erik Dersch
Chris Lay
Sarah Connor
Nate Bjork

Acoustic Rock Performances by:

Andrew Richard & Joel Campnell and many more!

ALL THIS FOR $3
Show starts at 9pm!
Doors open at 8:30!
sun
mon
tue
wed
thu
fri
sat