$index = intval($_REQUEST["i"]); ?>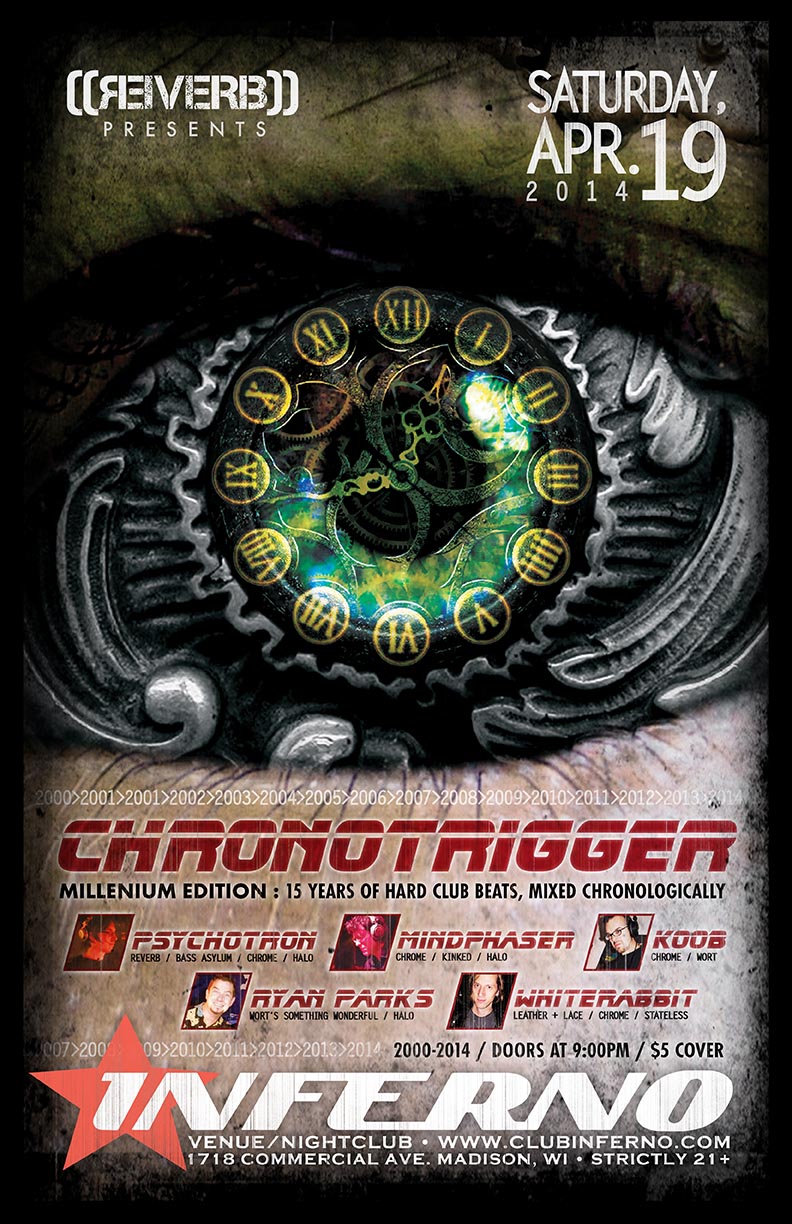 CHRONOTRIGGER:
Millenium Edition
Saturday April 19 2014
REVERB is the persistent echo from over a decade of Inferno dance nights. REVERB is a tactical aural assault from door time 'til bar time. REVERB is showing up not in what you think makes you look best, but what is going to be the most forgiving to dance in all night. REVERB is one thing and one thing alone: kick-ass dark dance music. Our target is the dance floor, our weapons are a host of veteran DJs, and the collateral damage is you.

Saturday April 19th, REVERB and Inferno are proud to host a special Millenium edition of CHRONOTRIGGER! For the uninitiated, CHRONOTRIGGER is a chronological restrospective of the very best in hard club music. The evening will journey through 15 years of hard club beat anthems and favorites, moving forward in time as the night progresses. Each hour features a different DJ pair playing tracks only from a specific time block, becoming more current with each hour until we arrive at today's offerings at the end of the night.

Your DJs for the evening:

Whiterabbit (Leather and Lace/Chrome/Stateless)
psych0tron (REVERB/Bass Asylum/Chrome/HaL0)
Mindphaser (Chrome/Kinked/HaL0)
Koob (Chrome/WORT)
Ryan Parks (Something Wonderful/HaL0)

Doors at 9pm. $5 cover.
sun
mon
tue
wed
thu
fri
sat