$index = intval($_REQUEST["i"]); ?>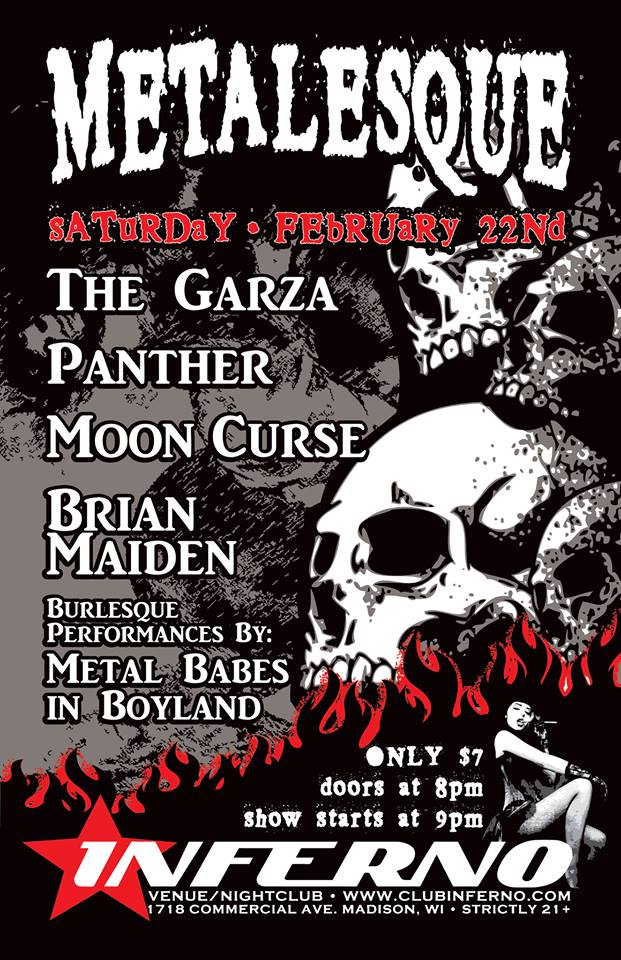 METALESQUE!
The GARZA, PANTHER, MOON CURSE
Saturday February 22 2014
Four solid bands and a special group of talented burlesque performers are coming together to celebrate metal, and to provide an entertaining, unique break from winter boredom.

The killer line-up:

THE GARZA http://thegarza.bandcamp.com/
PANTHER http://panther.bandcamp.com/
MOON CURSE http://mooncurse.bandcamp.com/
BRIAN MAIDEN https://www.facebook.com/pages/Brian-Maiden/361691671311

AND METAL BABES IN BOYLAND - a unique collaborative group of burlesque performers who will be doing their own artistic take on metal.

Doors open at 8pm, and the show starts at 9pm!

NEVER A DULL MOMENT AT THIS SHOW!! Save the date and give yourself something awesome to look forward to in February.
sun
mon
tue
wed
thu
fri
sat