$index = intval($_REQUEST["i"]); ?>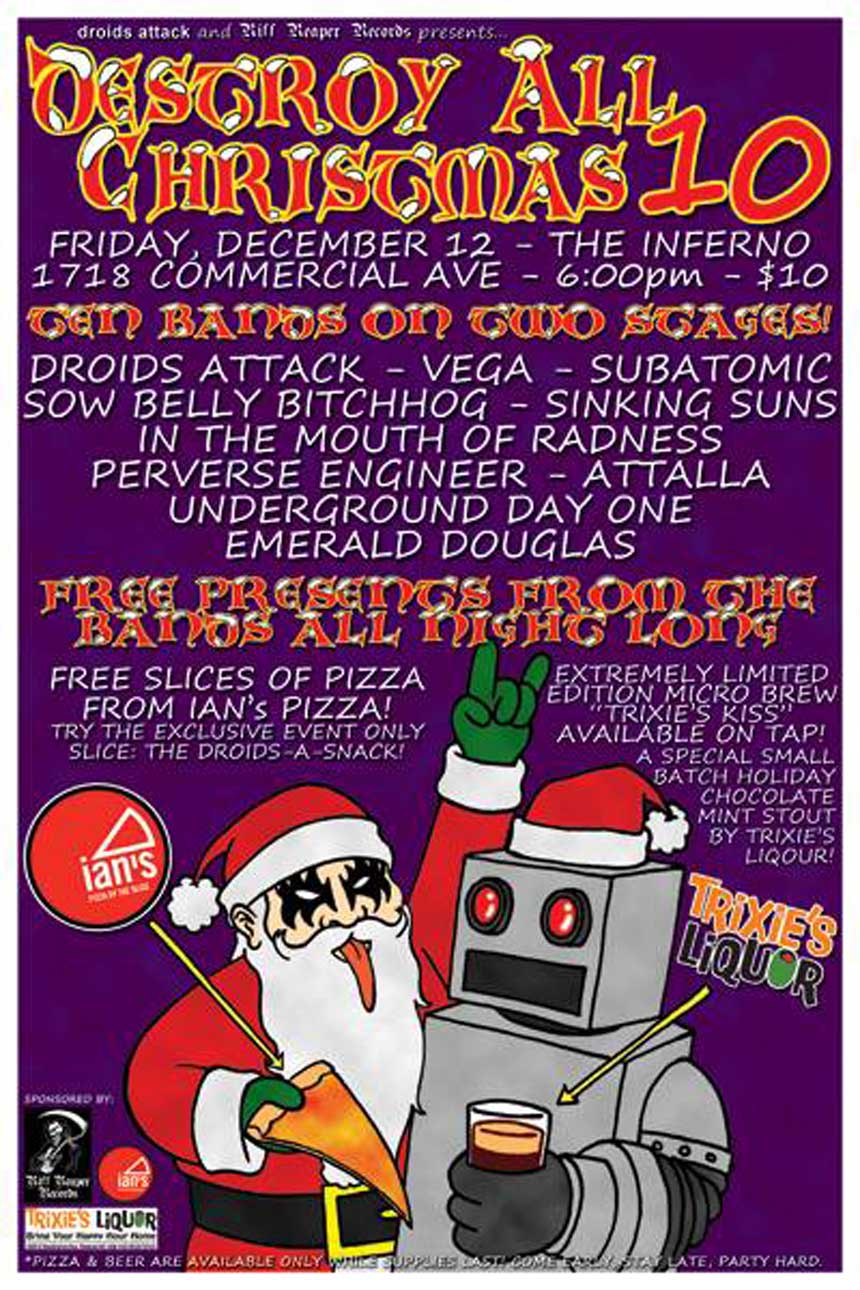 Destroy All Christmas!
Friday December 12 2014
Droids Attack
Vega
Subatomic
Sow Belly Bitchhog
Sinking Suns
In The Mouth Of Radness
Perverse Engineer
Attalla
Underground Day One
Emerald Douglas

It's that time again, only this time it's more massive then ever! DROIDS ATTACK celebrate ten years of DESTROY ALL CHRISTMAS with a huge party at THE INFERNO on December 12th featuring ten bands on two stages! As with all DAX events, every band will be giving away FREE PRESENTS to the audience during their set. There will be sexy elves spreading good cheer, and a visit from our favorite jolly old arch nemesis, SANTA-BOT... but this year there's even more! Droids is teaming up with TRIXIE'S LIQOUR to offer up a barrel of their extremely limited "Trixie's Kiss" Chocolate Mint Stout! Only 25 barrels will be brewed, and one will be served on special until it is gone. Don't miss out! If all of that wasn't enough, Droids is also partnering up with IAN'S PIZZA to serve you dinner! Show up early to try an epic slice you won't find on their regular menu... the DROIDS-A-SNACK! A savory slab of primium deliciousness you won't want to miss. FREE slices until supplies run out! Lastly, RIFF REAPER RECORDS will be putting on their very first showcase on the second stage bringing some of the region's hardest acts to Madison! Blow your mind on the pounding rhythms and massive riffs they've plucked from the underground just for you. Amazing food, rightous microbrewed beer, and the heaviest entertainment around! DAX10! Starts at 6pm, so get there early! $10 cover, 21 & up!
sun
mon
tue
wed
thu
fri
sat