$index = intval($_REQUEST["i"]); ?>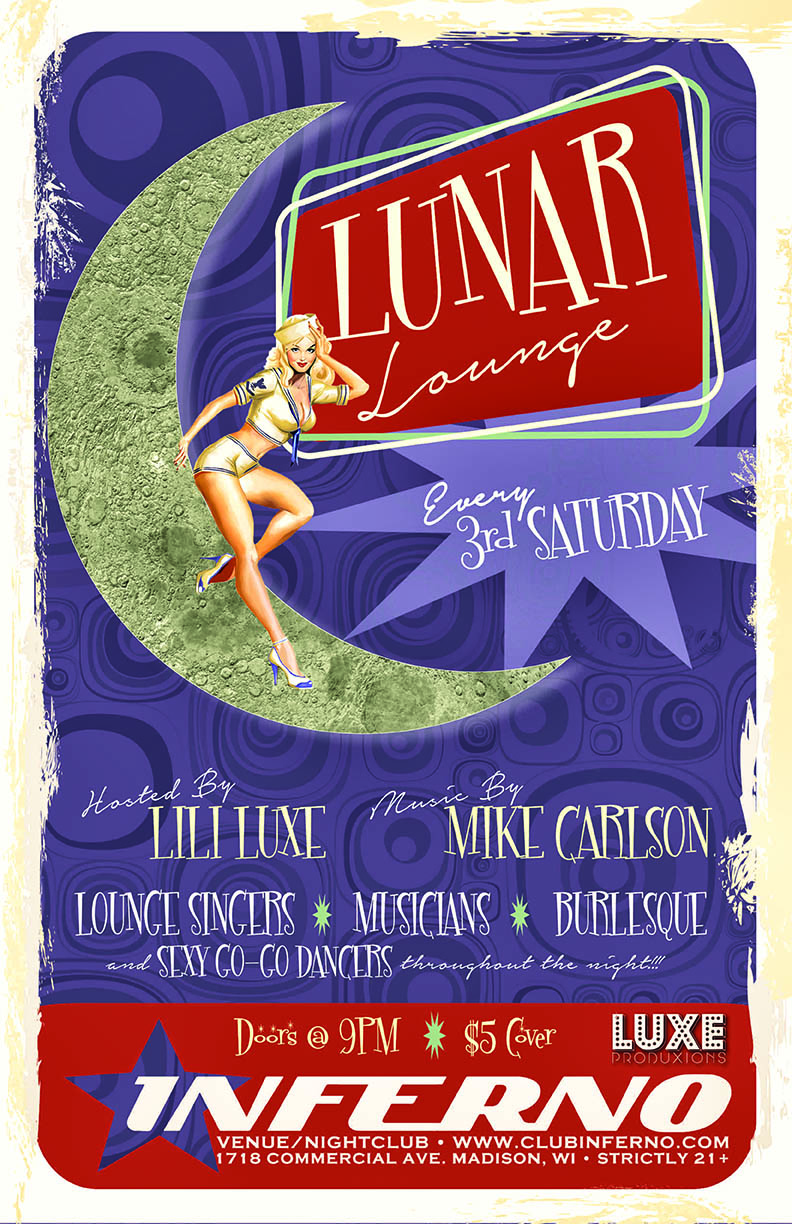 Lunar Lounge
Saturday November 15 2014
Every third Saturday of the month is Lunar Lounge at Inferno Nightclub.

Come and be mystified with the illusion of being in an old-school lounge as you indulge your senses with sultry singers, delightful dancers, magnificent music and delicious drinks.

Hosted by Lili Luxe with music by Mike Carlson.

Let us entertain you with performances by:

-- Lyndsay Evans ,lead singer of Sexy Ester and member of Les Cougars, this powerhouse singer will make your jaw hit the floor! Lyndsay will be joined by fellow Cougar Greta Thorn for Goldfinger.

-- Sexual Chocolate from Peach Pies Caburlesque will be doing an amazing rendition of Skyfall.

-- Jemma takes the stage at Lunar Lounge again. This beautiful songbird will charm you with her song and then dance in the cage.

Lunar Lounge performances are always *every 20 minutes on the backstage* so the dance floor never stops for a show.

This month the lounge becomes a speakeasy.
Clues will be posted on the event page to help you decipher the code word for reduced cover and free drinks.

Classic James Bond films will be playing on the screens all night, so come dressed as your favorite spy or villain, or really whatever suits your fancy.

Photobooth available by Rise Up Lights LLC to capture the moments.

Doors at 9:00 pm, 21 ID required
$5 COVER


* * * * * * * * * * * *
Luxe Produxions are always LGBTQ/Female-friendly.
Everyone is encouraged and welcome to attend but absolutely no bullying or predatory behavior of any kind is tolerated.
sun
mon
tue
wed
thu
fri
sat