$index = intval($_REQUEST["i"]); ?>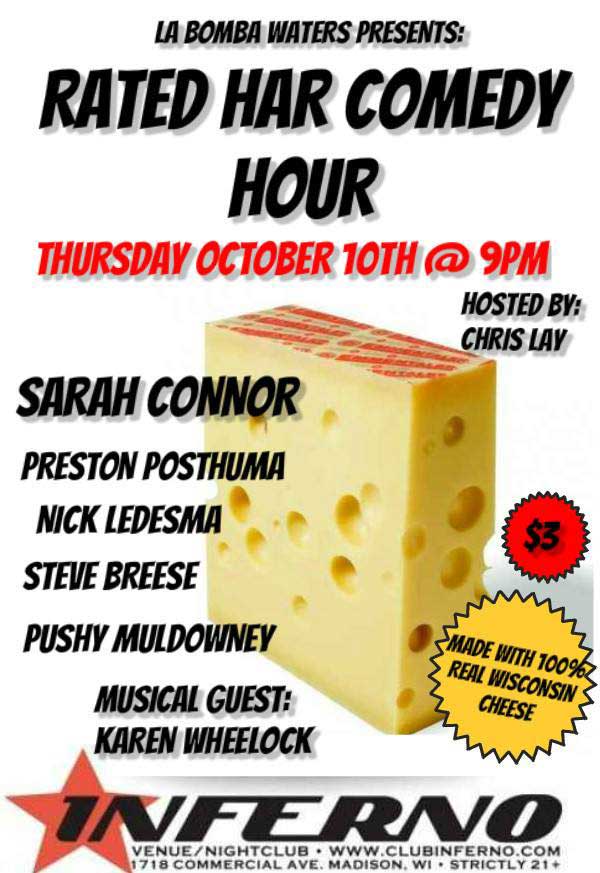 Rated Har COMEDY NIGHT - Music Before and after Comedians
Hosted by RAYCE OPTION
Thursday October 10 2013
Spend the first Rated Har of the Fall season with us folks! No better way to enjoy a crisp evening than bobbin' for apples and beer with the best of Madison's local comics! Laughter is better than pecan ice cream melting on a warm piece of apple pie. Enjoy some great acoustic music after the show. These jam sessions have become quite the magical event to bring it all together!! AND FOR ONLY $3??
Headlining:
The infamous Sarah Connor
Featuring:
Pushy Muldowney, Preston Posthuma, Nick Ledesma
Hosted by:
Rayce Option
Musical Guest:
Karen Wheelock & a SURPRISE GUEST APPEARANCE!!
sun
mon
tue
wed
thu
fri
sat