Cynergy 67, Sensuous Enemy, & Light Asylum
Saturday February 19 2011
Inferno
presents special
LIVE PERFORMANCES
from: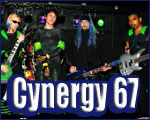 CYNERGY 67
Inspired by the future, Cynergy 67 lives in a world that they create. Futuristic music and a futuristic show. Songs of relationships gone bad show the human element while songs of transformation show the machine side. Cynergy 67 are cyborgs with human souls.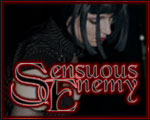 SENSUOUS ENEMY
[electronic / gothic / rock - Madison, WI]
Sensuous Enemy blends driving drum sequences and hard techno and EBM synth lines, combines powerful velvety vocals with a subtle use of orchestral strings, piano, and vocal harmony, and adds live electric rhythm guitar and drums to create a sublime visual stage presence.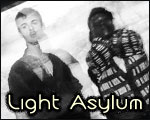 LIGHT ASYLUM
[club / industrial / post punk - Milwaukee, WI]
Light Asylum is a musical echoing from the past reverberating against mans foreshadowing, apocalyptic plight, to destroy what light is still being held up high to guide us all inward and homeward. As a beacon is to sailors lost to a battle with the sea, beats, synths and vocals come in waves leading listener ashore in the darkest of nights. Also featuring
DJ PSYCH0TRON
on decks. Find
Inferno nightclub
on facebook:
Doors at 9:00PM, 21+ ID required. $5 cover all night. $2.00 SELECT PINTS and $2.00 RAIL MIXERS until 10PM.