Focus w/ Lee Jarvis, DJ Foundation, D'Angelo, & Wyatt Agard
Friday May 22 2009
Inferno
presents
FOCUS: HOSPITALITY
, featuring DJs:
Lee Jarvis
Lee Jarvis is one of the most exciting young DJs to emerge on the London scene in the last few years, playing at many of Londonís major venues including Turnmills, Egg, The Cross, the Ministry of Sound, plus several UK, Europe and Chicago gigs. Host of the legendary Moochin' parties for the last five years, Lee has been moving dance floors at what has become one of the most respected nights on the UK underground jackiní scene. His own original tracks are being played by heavy hitters like Mark Farina, Joey Youngman and The Littlemen. Having Lee Jarvis play in Madison is a real treat, so this month we Focus on attitude and not music. Lets make sure we show our friend from across the pond why Madison is such a fun place to play.
D'Angelo
Master of the funky house underground, D'Angelo has been crushing dance floors from here to Milwaukee and beyond for some time now. A bass driven beat junkie, he always brings the heat.
DJ Foundation
Originator of dozens of acclaimed club nights in Madison over the last decade, Foundation brings a techy, electronic edge to house music.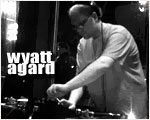 Wyatt Agard
Host of the Focus series, Wyatt has been in the game and around the bend. Playing just about every dance event and venue the midwest has to offer, he is must see DJ on every club kids roster.
Doors at 9PM, 21+ ID required. NO COVER before 10PM, $3 after. $1.50 SELECT PINTS and $1.50 RAIL MIXERS from 9-10PM. SMOKING IS ALLOWED at Inferno!