$index = intval($_REQUEST["i"]); ?>
Sabbat De Sade w/ DJ Siberia
Sunday February 15 2009
Sabbat De Sade
: Madison's newest interactive fetish night, just for us. The third Sunday of every month Inferno is transformed into a dungeon to divulge your deepest deviant desires. Featuring DJ
SIBERIA
mixing
DARK INDUSTRIAL DANCE
beats.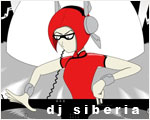 Ever feel like you missed out on the full college experience: the humiliation of the walk of shame when a senior took advantage of you as a young freshman, waking up next to someone and couldn't figure out why your ass hurt, or just the great humiliation of being blind folded and forced to do ungodly things you wouldn't want your mother or father to know? For the rest of us we wish we could've been that guy/girl leaving you feeling ashamed and used, blind fold you and make you do terrible things that you probably won't tell your significant other. This night was created for that glorious experience we may have missed out on during our formative years. I suppose if you did go through the hazing and absolutely loved it, you can come too. Here's your chance to join our fraternity/sorority, Sigma Delta Sade and graduate Magna Cum Laude. Doors open at
8:00PM
, so you can come play early and make it to work on Monday.
Doors at 8PM, 21+ ID required. $8 cover in fetish gear, $12 otherwise. $1.50 SELECT PINTS and $1.50 RAIL MIXERS until 10PM.
sun
mon
tue
wed
thu
fri
sat