$index = intval($_REQUEST["i"]); ?>
Euphony w/ Scarlet Violence,
D.S.O, Endif, & more
Friday August 24 2007
Eternal Productions
presents
EUPHONY
, featuring:
SCARLET VIOLENCE
[Madison, WI]
D.S.O.
[Columbia, WI]
The anti-music twilight zone experience. Expect nothing. Leave with something.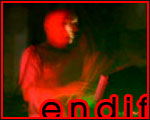 ENDIF
[Madison, WI - Crunchpod Records]
Endif draws upon a broad spectrum of experiences and influences and distills them into original sonic compositions incorporating a syncrete of techniques with a mind altering rhythmic bent and a fierce uncompromising aesthetic. In short, hard experimental electronic that's usually danceable.
cutFUCKER
[Madison, WI]
Rinsin' the dubstep plates for all y'all bass addicts. Wait for it...
DEMEA
[Madison, WI]
One hour DJ set of the smooth groove minimal techy likes to get the night started.
Doors at 9PM, 21+ ID required. NO COVER for any Euphony cardholders (plus one guest), $5 otherwise. $1.50 SELECT PINTS and $1.50 RAIL MIXERS until 10PM.
sun
mon
tue
wed
thu
fri
sat