Reverence, Day 4 w/
Stromkern, & more
Saturday July 28 2007
Dead Beat Productions
presents Day Four of the
Reverence 2007
music festival, with: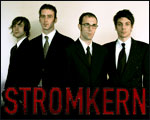 STROMKERN
[industrial / alternative / hip hop - Chicago, IL]
Fusing hip-hop vocals and rhythms with classical compositions and post-industrial rock, Stromkern have been carving out a unique sound for over a decade.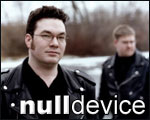 NULL DEVICE
[electronica / trip hop / breakbeat - Madison, WI]
Null Device jumps genres with a dizzying frequency, while maintaining a distinctive melodic sound. Experimenting with everything from synthpop, breakbeat, IDM, bhangra, middle eastern folk music, and rock-n-roll, they've carved out a unique niche on the independent electronica landscape.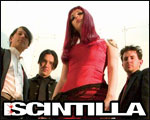 I:SCINTILLA
[alternative / rock / electro - Chicago, IL]
I:Scintilla seamlessly fuses electronic and rock elements while pushing the boundaries of pop music. Bindrim's intensely seductive voice and insightful words paint a dark picture of loss, redemption, and introspection and are delivered via insatiably catchy hooks. The music drapes the mood with intricately layered synthesizers, grinding guitar riffs, and a mix of live and programmed drums.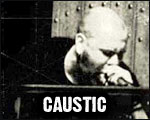 CAUSTIC
[industrial / powernoise - Madison, WI]
FILAMENT 38
[industrial / electro - Cleveland, OH]
PR0METHEUS BURNING
[experimental / industrial / hardcore - Pittsburgh, PA]
Prometheus Burning is a genre-bending Industrial project, focusing on experimental vocal structures, intricately layered synthlines, complex rhythms, dark atmospherics, junkyard percussion, and glitched out electronic noise.
CTRLSHFT vs. ENDIF
[IDM / electro / industrial - Madison, WI]


DJs
WHITERABBIT & I.Z.
For info on
advance tickets, four day passes
, or other questions about
Reverence
, e-mail
Dead Beat Productions
at [madreverence [at] gmail.com].
Doors at 5:30PM, 21+ ID required. Tickets $18 in advance, $20 day of show. $1.50 SELECT PINTS and $1.50 RAIL MIXERS until 10PM.