Burn w/
Cynergy 67, & Widdle Monsters
Thursday June 21 2007
Inferno
presents
BURN
, featuring
LIVE PERFORMANCES
from local and regional bands. Tonight features: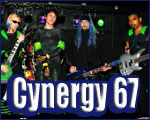 CYNERGY 67
Inspired by the future, Cynergy 67 lives in a world that they create. Futuristic music and a futuristic show. Songs of relationships gone bad show the human element while songs of transformation show the machine side. Cynergy 67 are cyborgs with human souls.
WIDDLE MONSTERS
[visual / rock / ghettotech - Chicago, IL]
It all began when one boy left this world in search of another. Under his bed he traveled to a dark place, and here he found Monsters! But not just any Monsters. Nooooo. These were monsters with guitars and kazoos! So now they have all returned to rock this world once over. Live fast, die young and you'll never grow old. For more info or to discuss booking for
Burn
, contact [jon [at] clubinferno.com].
We aren't gonna order you not to smoke - feel free to burn at
Inferno!
Doors at 9PM, 21+ ID required. SMOKING is ALLOWED at Inferno! $1.50 SELECT PINTS and $1.50 RAIL MIXERS from 9-10PM.