Charlie Don't Surf - Live w/
Helliphant, The Hat Party, & more
Thursday May 3 2007
Inferno
and
WORT 89.9FM
present
CHARLIE DON'T SURF - LIVE
. The music begins promptly when the bar opens at 9PM with an hour long DJ mix from
JAKE SHUT
, host of long running WORT radio show Charlie Donít Surf, featuring his trademark uptempo and underground mix of
punk, indie rock, garage, metal, hardcore, stoner, hip hop, Americana, no wave
and various obscure blasts from the past. The DJing is interrupted throughout the night for L
IVE PERFORMANCES
from three regional acts, handpicked by Jake Shut, who play their sets after 10PM. Tonight features: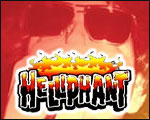 HELLIPHANT
[Madison, WI]
Madison supergroup featuring past members of Way Off the Horse, The Skintones, echo-static, Uncle Eddie, Plastic and others. Heavy catchy hard rock reminiscent of Faith No Moreís more metal excursions with tasty keyboard work.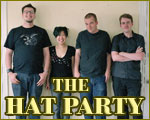 THE HAT PARTY
[indie / Madison, WI]
New wave keyboard ambience and post punk guitars combine to make a delightfully and surprisingly poppy result. Guitars crashing, bass bouncing, drums cracking, singers singing/shrieking and keyboard melody filling the gaps. Songs for a lost era. New-wavey keyboard ambiance clashes with dissonant post-punk guitars, driving basslines duke it out with frantic drums. Familiar elements in an unfamiliar mix - or pop as it should have been. Stripped down, stark naked post-punk anthems versus lush (noisy?) cinematic soundscapes. Sometimes brutal, sometimes beautiful, always memorable.
FAGHAT
For more info or to discuss booking for
Burn
, contact [jon [at] clubinferno.com].
We aren't gonna order you not to smoke - feel free to burn at
Inferno!
Doors at 9PM, 21+ ID required. SMOKING is ALLOWED at Inferno! $1.50 SELECT PINTS and $1.50 RAIL MIXERS from 9-10PM.