Crustacean Records
Live Showcase
Friday May 11 2007
CRUSTACEAN RECORDS SHOWCASE
, with
LIVE PERFORMANES
from: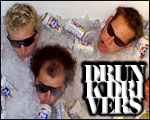 DRUNK DRIVERS
[rock - Madison, WI]
Although created with the intention of never leaving the basement, All Malt (and now Crustacean) recording artists, Drunk Drivers have been favorites with live audiences all over the Midwest since 1994. Formed by members of rock powerhouse Venison (BigMoneyInc.) and eclectic quirk punk ThreeLiterHit (theFamily), Drunk Drivers have carved out their own identity from their rural surroundings and have become mainstays on the regional club scene. Collectively, Drunk Drivers pack 50 years of rock and over 1,000 live shows under their belts.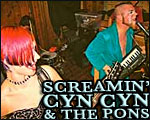 SCREAMIN' CYN CYN & THE PONS
[cabaret punk - Madison, WI]
Screamin' Cyn Cyn & The Pons sing funny, catchy songs over a relentless rhythm section, powerful guitar lines, and simple keytar riffs. It's art-rock without pretension, twee-core without sentimentality, punk rock without pants. Screamin' Cyn Cyn & The Pons' live show is littered with homemade props, hand-sewn costumes, and a confrontational mania that invariably elicits dancing, laughter, or at least slack-jawed bewilderment.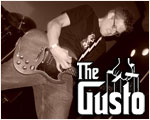 THE GUSTO
[rock / punk / alternative - Madison, WI]
Doors at 9PM, 21+ ID required. $5 cover all night. $1.50 SELECT PINTS and $1.50 RAIL MIXERS until 10PM.