Burn w/ Foxy Veronica's
Peach Pies, & Marazene
Thursday May 10 2007
Inferno
presents
BURN
, featuring
LIVE PERFORMANCES
from local and regional bands. Tonight features: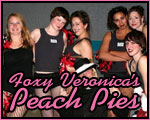 FOXY VERONICA'S PEACH PIES CABURLESQUE
[Madison, WI]
Fresh, hot caburlesque served with a side of sass! We're sweet, vivacious, and adorably outrageous! A booty here, a bosom there...you might even see our underwear! Bringing you caburlesque with the best of both worlds: debonair men and incorrigible girls.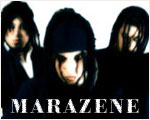 MARAZENE
[metal / industrial - Chicago, IL]
If you listen closely enough you can hear it. The trance-like, danceable headtrip laced with violence emerging from the midwest is none other than Chicago-based Marazene. Tipping the hat to the sound pioneered by the early 90's Chicago Industrial movement led by Ministry, songwriting finesse of the Smashing Pumpkins, and the crunch heavy guitars and aggression of current lords of metal Disturbed, Marazene take the stage ready to create a new legacy and leave their mark. For more info or to discuss booking for
Burn
, contact [jon [at] clubinferno.com].
We aren't gonna order you not to smoke - feel free to burn at
Inferno!
Doors at 9PM, 21+ ID required. SMOKING is ALLOWED at Inferno! $1.50 SELECT PINTS and $1.50 RAIL MIXERS from 9-10PM.