Dolls' Pirate Party w/
Things Fall Apart, & more
Thursday April 12 2007
Inferno
presents
BURN
, featuring
LIVE PERFORMANCES
from local and regional bands. Tonight features a
MAD ROLLIN' DOLLS PIRATE PARTY!
, with: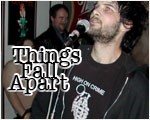 THINGS FALL APART
[rock - Madison, WI]
Technically advanced hardcore with screemo tendencies and passionate personal and politically themed lyrics; a great mix of hardcore punk that ranges from the discordant, to heavy, from the screemo to the catchy and melodic. All totally solid, full of energy and super fucking good. On
Crustacean Records
.
MERRICK
[punk / metal - Madison, WI]
Music for Mountain Dew drink'n and Marlboro smok'n heshers of Wisconsin. A little punk, a little metal, a lot of ROCK.
MAD ROLLIN' DOLLS
[hurt in a skirt - Madison, WI]
Mad Rollin' Dolls is a flat-track derby league in Madison, Wisconsin, owned and run by the Dolls. Flat-track derby is a hard-core sport played by independent, strong, modern women. Mad Rollin' Dolls provides an outlet for female aggression and self-expression. We entertain and inspire both on and off the rink; we encourage and organize women to participate in service to the community; we get fit, have fun and throw killer parties! For more info or to discuss booking for
Burn
, contact [jon [at] clubinferno.com].
We aren't gonna order you not to smoke - feel free to burn at
Inferno!
Doors at 9PM, 21+ ID required. $5 if dressed in pirate attire, $7 otherwise. SMOKING is ALLOWED at Inferno! $1.50 SELECT PINTS and $1.50 RAIL MIXERS from 9-10PM.