Alex Under, Punisher,
& Shift
Wednesday March 7 2007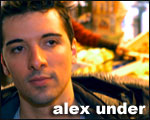 ALEX UNDER
[Live PA / www.net28.net]
Alex Under confirmed himself as the new reality of the best international techno, sometimes being minimal and deep, sometimes hard and aggressive, but always original. He creates a sonic collage combining techno, trance and house elements while he constructs complex rhythms that arise from the dance floor taking the listeners to a higher level where emotions, depth, mind & body blend in a unique equation.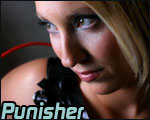 PUNISHER
[Live PA / www.volatl.com]
Known in circles of Detroit and around the globe for her ambition and skills on the tables, Michelle Herrmann a.k.a. Punisher has set precedence in a city known for its fickle taste. To back the momentum of her techno releases, Michelle travels the world DJing, performing Live PA's, and consistently banging out amazing sets that get dancefloors rocking. Her sound encompasses Drum N' Bass, Techno, Electro, and everything in between. On top of her game would be an understatement for Punisher, as her accomplishments are only a small portion of what she has planned for 2007 and beyond, including the creation of a new label with a unique vision, and the release of a huge onslaught of music, including her first ever full length album!
SHIFT
[DJ Set]
Doors at 9PM, 21+ ID required. $10 cover all night. $1.50 SELECT PINTS and $1.50 RAIL MIXERS until 10PM.