Burn w/ Helliphant,
Droids Attack, & more
Thursday October 18 2007
Inferno
presents
BURN
, featuring
LIVE PERFORMANCES
from local and regional bands. Tonight features: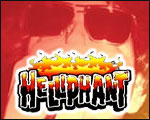 HELLIPHANT
[Madison, WI]
Madison supergroup featuring past members of Way Off the Horse, The Skintones, echo-static, Uncle Eddie, Plastic and others. Heavy catchy hard rock reminiscent of Faith No More's more metal excursions with tasty keyboard work.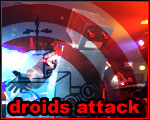 DROIDS ATTACK
[Crustacean Records / Madison, WI]
The idea behind Droids Attack was to create music that went over well live, and to try and develop a distinct sound that they could call their own. As a result the music is a delicate balance of artistry and entertainment injected with satirical subject matter, commenting on sociological and political issues (as well as other absurdities).
WHITE TRASH HOT ROD
For more info or to discuss booking for
Burn
, contact [jon [at] clubinferno.com].
We aren't gonna order you not to smoke - feel free to burn at
Inferno!
Doors at 9PM, 21+ ID required. SMOKING is ALLOWED at Inferno! $1.50 SELECT PINTS and $1.50 RAIL MIXERS from 9-10PM.