Burn w/ Digibot, Darling
New Neighbors & more
Thursday August 17 2006
Inferno
presents
BURN
, featuring
LIVE PERFORMANCES
from local and regional bands. Tonight features: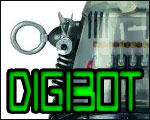 DIGIBOT
[Madison, WI]
Born into a world they did not create, four mutants collectively known as DIGIBOT desperately attempt to make sense of it all. Bastardized man-chines T-BOTTEN, SHMANDRUD, HOMENBORGN, and BORT struggle musically between their shared humanity and their inherent programming. Perhaps attributable to their conflicted nature, the Digiboys sonically alternate between random blasts of chaotic chordage and laser beams of focused fury.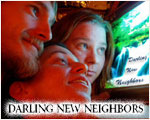 DARLING NEW NEIGHBORS
[indie / garage / folk rock - Austin, TX]
Austin's own Darling New Neighbors are post-punk connoisseurs of international and pop genres, who in a given set tackle mariachi, accordion disco, and rock with the same aplomb. In combination, Darling New Neighbors wield a DIY and undaunted approach to tune-crafting that propels them from their base of garage rock and classic pop idioms through a wide-ranging landscape of honkytonk, slow jams, Latin music and hair-metal. A consistent emphasis on melody and lyrics smoothes out the stylistic shifts, creating an unexpected synchrony. [
myspace
]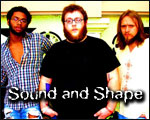 SOUND AND SHAPE
[rock / experimental - Nashville, TN]
From coast to coast, Sound and Shape has created a pulse that is nothing less than electric. Leaving audiences stunned and speechless, Sound and Shape continues to pound forth with their "in your face, energetic rock and roll." No other band displays such intensity and emotion, both on stage and on their recordings.
PISTOLS AT DAWN
For more info or to discuss booking for
Burn
, contact [jon [at] clubinferno.com].
We aren't gonna order you not to smoke - feel free to burn at
Inferno!
Doors at 9PM, 21+ ID required. $5 cover all night. $1 PBR ALL NIGHT! SMOKING is ALLOWED at Inferno! $1.50 SELECT PINTS and $1.50 RAIL MIXERS from 9-10PM.