Pixel Pussy w/ DJs
Psych0tron & Mindphaser
Saturday July 29 2006
Inferno
is proud to host
Chrome
- the state's biggest club night focusing on underground hard beats, featuring veteran DJs mixing a brutal blend of new and classic
ELECTRO, INDUSTRIAL, EBM, POWERNOISE, TEKNO, GOTH,
and
SYNTH
. This week
Madison Dungeon
presents: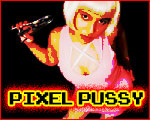 PIXEL PUSSY
Video, beats, and burlesque! Enter a future-fetish world of retinal-wrecking projections, eardrum-pumpin' beats, and lovely PixelPussy Cats! An hour-long, audio-visual theatrical sideshow unlike anything done before, using all technology available from lighting to video and stage effects to music, with lovely Pixel Pussycats performing live. Dramatic skits ranging from medical to military to future sci-fi will tantalize your mind with new diversions of perversion. Produced by Bishop and Miss Nix from Simplistiks; featuring
MAYA SINSTRESS, MISS NIX, NIKKI FIERCE,
and
BRAIN BLENDER
on audio/video mixing.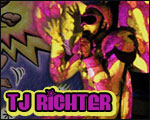 TJ RICHTER
Using wild cartoons on a huge projection screen, cyber-crazy vocal processors, and music equipment TJ Richter tells multimedia stories that trip you out and love you. Wearing bizarre cardboard costumes with strap-on laser body parts, TJ Richter executes extreme sport trampoline leaps through his own projections. Enjoy wiggles of giggles, contortions of distortion, and screaming daydreaming wave-spaces of imagination. Tonight also features DJs
MINDPHASER
and
PSYCH0TRON
.


For more information on
Chrome
, e-mail [whiterabbit [at] clubinferno.com].
Doors at 9PM, 21+ ID required. $1.50 SELECT PINTS and $1.50 RAIL MIXERS until 10PM.