Bermuda Triangle w/ DJs Rob
Lemon, Dan Catron, & more
Friday July 28 2006
Alex Hall
presents
BERMUDA TRIANGLE
, featuring: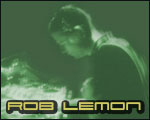 ROB LEMON
and
DAN CATRON
[Turbo/Velocity/Oz Nightclub - Saint Louis, MO]
During his residency at Velvet Nightclub in St. Louis, Rob played alongside top names such as Jerry Bonham and Christopher Lawrence. He has also had the privilege to play venues such as Kabal-Kansas City, LaSouk-NYC and LaBoom-Mexico. In 1999 Rob was hand selected by Chris Fortier to represent the prestigious Balance Record Pool for the Midwest of which he is still a member today. Rob's mixes are regularly featured on XM Radio CH80 The Move, Proton Radio and Mercury Server Sessions Radio of which he is the host of the bi-weekly radio show-Velocity. Rob is the owner/director for Velocity Promote Group, event promotion and talent booking agency for Vinny Troia, Andre Solaris, Paul DeMatteo and others. Recently Rob formed the music production group "X-1" with production mates Justin King and Byron Thomas. Their first release "Hypnosis" launched out of the studio early this spring and is already making a buzz on the progressive scene. His fellow resident at Ox Nightclub, Dan Canton, joinshim for this very special appearance.
DJNR8
[Better Breakbeat Bureau - Kenosha, WI]
Mario Massa a.k.a. djnr8 is an Italian-American DJ who grew up in Milwaukee, WI. Working & living right between Chicago and Milwaukee in the industrial spread of Kenosha, WI--a city where club nightlife barely exists--he has helped breathe life into this small city near the Illinois-Wisconsin border.Most Fridays and Saturdays you'll find him playing at some party, club or bar all over Wisconsin. Though he is a breakbeat DJ first & foremost, he is versatile within many styles and has been known to drop classics & blur the lines of those genres in his sets. The one thing that remains consistent with his 10 year career as a DJ, is his unwillingness to stop - he always progresses, gains experience, and keeps moving forward. In 2004 he dreamed up the concept of the Better Breakbeat Bureau. That is his home now. Not ever giving it a framework to exist in, his crew/production outfit has gone from idea to integral part of the midwest dance community in a very short time. Though it is his baby, he has stepped back and let it take a life of its own, ever-growing into avenues he couldn't have imagined.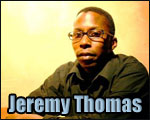 JEREMY THOMAS
[Flo-Vibe/Maduro - Madison, WI]
Born and raised in Wisconsin, DJ Jeremy Thomas was exposed to music at an early age. "I remember being around five or six. My father would always designate Sundays as the day that he listened to his collection of vinyl...Aretha Franklin, Parliament, Bill Withers, KC & The Sunshine Band, or whatever. I remember thinking that it was cool that he had such a crazy array of music. In a sense, he was djing, albeit to himself, in our basement." As soon as he could earn his own money, Thomas started to collect music. "Right around the mid to late nineties is when I started buying records and djaying. Raves were going strong pretty much every weekend and I was lucky to know alot of the promoters. Every once in a while someone would need an early slot filled at a house party or rave. Even though I wasn't very good, it was nice to get the experience." Steadily gaining popularity through word of mouth, Jeremy found himself playing with some big names on a regular basis...Nick Nice, Chad Mindrive, DJ Heather, Trevor LaMont to name a few. Today, with multiple residencies (The Cardinal, Maduro, Natt Spil, Orpheum) at some of Madison's hot spots, you can find Thomas on any given night blending house, downtempo, or raregroove. Tonight also features
LIQUOR PROMO GIRLS, FREE CATERING, CHAMPAGNE GIVEAWAYS, $1 PBR BOTTLES, and SEXY BERMUDA DANCERS!
For more information on
Bermuda Triangle
, e-mail [alexhall [at] alexhall [dot] us].
Doors at 9PM, 21+ ID required. $5 cover all night. $1.50 SELECT PINTS and $1.50 RAIL MIXERS until 10PM.