Burn w/ Easy Data,
Obsolete Machines & more
Thursday July 27 2006
Inferno
presents
BURN
, featuring
LIVE PERFORMANCES
from local and regional bands. Tonight features:
EASY DATA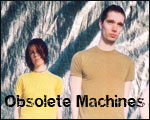 OBSOLETE MACHINES
[industrial / indie / electronica - LaCrosse, WI]
With four years of performing experience, Obsolete Machines has a wide range of emotions and energy levels. Techno/hip hop rhythms and groove oriented rhythmic bass lines are the emphasis of this project surrounded by ambient effects, electronic wave-forms, raw distorted guitar lines, and chunky piano chords. This project was written to get people moving and keep the energy of the crowd high the whole night with a very unique sound you can't get anywhere else.
dB PETERSON
For more info or to discuss booking for
Burn
, contact [jon [at] clubinferno.com].
We aren't gonna order you not to smoke - feel free to burn at
Inferno!
Doors at 9PM, 21+ ID required. $5 cover all night. $1 PBR ALL NIGHT! SMOKING is ALLOWED at Inferno! $1.50 SELECT PINTS and $1.50 RAIL MIXERS from 9-10PM.