Mega Havoc Suicide Tour
w/ Jason BK, Caustic, & more
Wednesday July 26 2006
Inferno
and
Dead Beat Productions
present
HaLO
, featuring regional DJs spinning an eclectic club blend of
ELECTRO, INDUSTRIAL, EBM, GOTHIC, SYNTH, TEKNO,
and
RETRO
beats. Tonight brings the
MEGA HAVOC SUICIDE TOUR
, featuring DJs touring nationwide on a vegetable oil powered bus, bringing the love of
HARDCORE
to everyone.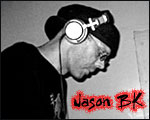 JASON BK
[Blackkat / New York, NY]
Jason spins a very wide variety of music, but he's primarily known for playing driving techno within a broad range of speeds and styles. His focus lately has been the 134-137 BPM percussive and heavy sound, featuring mostly UK based labels. He also plays "freetekno", the sound of the post-Spiral tribe traveling sound crews in Europe, primarily from France. He also is the creator of "Fuzzpop". Under the nickname Howie Wreckhords, Jason uses the "cut Up" methods of Brion Gysin to make analog experimental beats. He has many tracks on CD and vinyl compilations.
HEARTWORM
[5lowershop / San Francisco, CA]
Taking perverse pleasure in making "difficult" music, Darth Fuck Records' crown prince of noise throws down juicy slabs of auditory bliss for the discerning ear. From the coma-inducing ambient soundscapes and spastic, brain-churning drum& bass to stomping techno experimentation and tense, free-form minimalism, the Heartworm lurks just under the surface of modern electronic music's bloated corpse.
RTYPE
[Teen suicide / San Francisco, CA]
SOUR
[Havocsound / San Francisco, CA]
ABELCAIN
[Zhark / Madison, WI]
(tentative)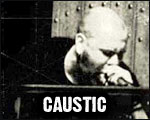 CAUSTIC
[Crunchpod Records / Madison, WI]
For more details on
HaLO
, e-mail
Dead Beat Productions
at [info [at] deadbeatproductions.com].
Doors at 9PM, 21+ ID required. $1.50 SELECT PINTS and $1.50 RAIL MIXERS until 10PM.