Firecracker Presents Knuckel
Drager, Helliphant, & more
Friday July 21 2006
Firecracker Studios
presents a night of art and rock. Tonight features an ART + ROCK BENEFIT with: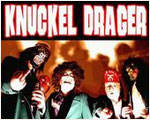 KNUCKEL DRAGER
[surf / garage / metal - Madison, WI]
With a sound straight from the cutting room floor of a second rate 60's biker flick, mixing surf, garage, metal and very little musical talent, Knuckel Drager have proclaimed themselves as: "The Worlds Heaviest Surf Band".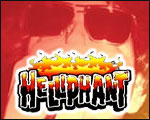 HELLIPHANT
[rock / metal - Madison, WI]
This is heavy rock, played balls out, with riffs that burn, surf-tinged solos that ignite the room, vocals born of fire and a rhythm section that smolders with the flames of doom's demonic drive. This raging Helliphant has no mercy. It destroys and conquers, stomping into your town with a rage in its heart and the stench of brimstone and pain belching from its gullet.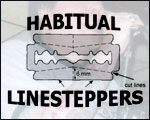 THE HABITUAL LINESTEPPERS
[rock / punk / garage - Decatur, IL]
Doors at 9PM, 21+ ID required. $5 cover all night. $1.50 SELECT PINTS and $1.50 RAIL MIXERS until 10PM.