Burn w/ Droids Attack
& Things Fall Apart
Thursday June 22 2006
Inferno
presents
BURN
, featuring
LIVE PERFORMANCES
from local and regional bands. Tonight features: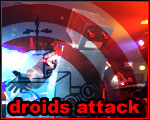 DROIDS ATTACK
[Crustacean Records / Madison, WI]
The idea behind Droids Attack was to create music that went over well live, and to try and develop a distinct sound that they could call their own. As a result the music is a delicate balance of artistry and entertainment injected with satirical subject matter, commenting on sociological and political issues (as well as other absurdities).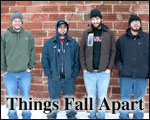 THINGS FALL APART
[Crustacean Records / Madison, WI]
Born in a small basement in Madison, Wisconsin, Things Fall Apart began as a side project, as an outlet for the boiled-down elements left over from, and left out of, the members other bands past and present. Things Fall Apart perform with a voracious intensity, and raw energy playing host to sharp, honest, and conscious lyrics. For more info or to discuss booking for
Burn
, contact [jon [at] clubinferno.com].
We aren't gonna order you not to smoke - feel free to burn at
Inferno!
Doors at 8PM, 21+ ID required. $5 cover all night. $1 PBR ALL NIGHT! SMOKING is ALLOWED at Inferno! $1.50 SELECT PINTS and $1.50 RAIL MIXERS from 9-10PM.