Firecracker Presents: Things Fall Apart & more
Friday May 12 2006
Firecracker Studios
presents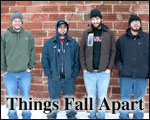 THINGS FALL APART
CD RELEASE PARTY!
Born in a small basement in Madison, Wisconsin, Things Fall Apart began as a side project, as an outlet for the boiled-down elements left over from, and left out of, the members other bands past and present. Things Fall Apart perform with a voracious intensity, and raw energy playing host to sharp, honest, and conscious lyrics.
STRAIGHT TO YOUR BRAIN
Wisconsin power-trio hardcore with harsh vocals, chunky guitars and bass, and driving rhythms. Interesting lyrical structures, some shout-along action, and a bit of non-detrimental guitar wankery. Well played hardcore that's diverse enough so that every song doesnt sound the same. alongside others
tba
Doors at 9PM, 21+ ID required. $1.50 SELECT PINTS and $1.50 RAIL MIXERS until 10PM.