Contamination w/
Ryan Crosson & Seth Troxler
Friday March 31 2006
Eucalyptus Productions
is proud to present
Contamination
. This month features: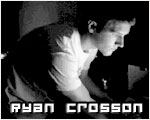 RYAN CROSSON
- LIVE PA!
[Detroit, MI]
Since late 2003 Ryan has focused his attention on percussive programming, dubby basslines, and dark atmospheres. Just one year after he began writing music Ryan was signed to Cologne-based label Trapez Ltd. In the summer of 2005, Ryan played his first international dates with impressive live performances throughout Germay. Recent releases on Telegraph &
Minus
(Berg Nixon) have helped solidify his future as a techno pioneer.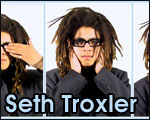 SETH TROXLER
[Detroit, MI]
As a midwest native, Seth has grown up around the works of Richie Hawtin, John Aquaviva, Derrick Carter. His record bag is very eclectic with styles ranging from jazz and rare groove to minimal funk and percussive techno. Recently he's begun writing his own music - keep an eye out for his track on the upcoming Audion Fabric CD. For more info on
Contamination
, e-mail [claire [at] midwestbass.com].
Doors at 9PM, 21 ID required. $8 cover all night. $1.50 SELECT PINTS and $1.50 RAIL MIXERS until 10PM.