Burn w/ Droids Attack, Full Vinyl
Treatment, & Mulligan Stu
Thursday March 16 2006
Inferno
presents
BURN
, featuring
LIVE PERFORMANCES
from local and regional bands. Tonight features: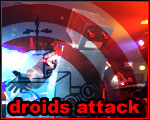 DROIDS ATTACK
[Crustacean Records / Madison, WI]
The idea behind Droids Attack was to create music that went over well live, and to try and develop a distinct sound that they could call their own. As a result the music is a delicate balance of artistry and entertainment injected with satirical subject matter, commenting on sociological and political issues (as well as other absurdities).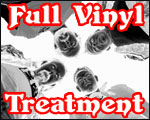 FULL VINYL TREATMENT
[Madison, WI]
Full Vinyl Treatment has prepared a strong selection of original music. The influences range from spoken word to Swedish metal, blues to British doom, and punk to jazz-fusion. The sounds contain viscous grooves mingling with interesting timing and fronted with emotional and in your ear lyricism. Energy is high, structures are intense, topics and grooves vary and should be enjoyable ear candy for all.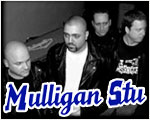 MULLIGAN STU
[Four On The Floor Records / Melavan, WI]
With hook-soaked guitars, melodic vocals and clever lyrics, Mulligan Stu have stayed true to the time honored tradition of punk rock that was developed by the Ramones, delivered with the pop sensibilities of Elvis Costello. Avid punk fans and pop enthusiasts alike will enjoy the infectious hooks that have become synonymous with the name Mulligan Stu. Tonight is also a celebration for
APOLLO'S BIRTHDAY
, with
NO COVER
all night and
FREE BEER
while it lasts - so you better show up early, suckas! For more info or to discuss booking for
Burn
, contact [jamie [at] clubinferno.com].
Smoking out in the cold sucks - stay inside and burn at Inferno!
Doors at 8PM, 21+ ID required. NO COVER all night! $1 PBR ALL NIGHT! SMOKING is ALLOWED at Inferno! $1.50 SELECT PINTS and $1.50 RAIL MIXERS from 8-10PM.