Contamination w/ Caro, Ryan
Simatic, & Tinhead
Friday February 24 2006
Eucalyptus Productions
is proud to present
Contamination
. Tonight features:
CARO
- LIVE!
[Seattle, WA]
Tonight madison native Randy Jones, aka Caro, returns to his hometown to perform his sexy version of jack music. After leaving madison in 1993 Randy moved to Seattle, and with Kit Clayton helped develop the audiovisual software Jitter for Cycling '74. In 2000, he co-founded Seattle-based
Orac Records
. You don't want to miss this one!
RYAN SIMATIC
- LIVE!
[Minneapolis, MN]
Ryan has been immersed in electronic music for years as a longtime DJ and co-founder of Minneapolis'
Vital Vinyl
record store. Most recently he's picked up the production torch and has been making music of his own.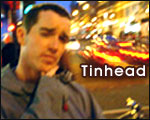 TINHEAD
- LIVE!
[Madison, WI]
You've been listening to him play other people's music for years. Come early to finally hear what he's been keeping to himself! For more info on
Contamination
, e-mail [claire [at] midwestbass.com].
Doors at 9PM, 21 ID required. $8 cover all night. $1.50 SELECT PINTS and $1.50 RAIL MIXERS until 10PM.