Burn w/ Future
Rock & Tripod
Thursday November 30 2006
Inferno
presents
BURN
, featuring
LIVE PERFORMANCES
from local and regional bands. Tonight features:
FUTURE ROCK
[Electronica / Progressive House / Rock - Chicago, IL]
Organic instruments + electronic synthesis + clever song writing. Three musicians exist in a web of sound constructed electronically with the use of live samples. The audience dances at the show and hums the melody at home. This is Future Rock. [
myspace
]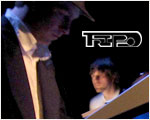 TRIPOD
[Ambient / Experimental / Electro - Madison, WI]
Tripod has found comfort with their natural ability to combine ambient electronic melodies with up-beat instrumental exploration. The trio uses fusion jazz, drum 'n' bass, and house beats with roots in jazz and funk to create a fast paced and high energy environment. Tripod finds its ground with a driving rhythm section that combines break-beats and moving bass riffs. This combination makes room for authentic vocal and audio samples which add a mysterious flavor to Tripods original sound. For more info or to discuss booking for
Burn
, contact [jon [at] clubinferno.com].
We aren't gonna order you not to smoke - feel free to burn at
Inferno!
Doors at 9PM, 21+ ID required. $5 cover all night. $1 PBR ALL NIGHT! SMOKING is ALLOWED at Inferno! $1.50 SELECT PINTS and $1.50 RAIL MIXERS from 9-10PM.