$index = intval($_REQUEST["i"]); ?>
Burn w/ Skerik's
Syncopated Taint Septet
Thursday October 19 2006
Inferno
presents
BURN
, featuring
LIVE PERFORMANCES
from local and regional bands.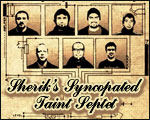 SKERIK'S SYNCOPATED TAINT SEPTET
[Punk / Jazz - Seattle, WA]
As described in Skerik's own words, "I like to think of this group as punk-jazz. Maybe a punk-jazz version of the Thelonius Monk Octet. I find that a very useful term, which is also something that Jaco Pastorius used to use to describe his music. I was very influenced by the way he who could play the shit out of bebop and then turn around and interpret a Jimi Hendrix tune just as deeply. Even though people consider that to be two different genres, I've always felt they were very closely related. Charlie Parker and Jimi Hendrix were both coming from the same place, the same roots, and they were both making music that was revolutionary and radical, politically and musically." For more info or to discuss booking for
Burn
, contact [jon [at] clubinferno.com].
We aren't gonna order you not to smoke - feel free to burn at
Inferno!
Doors at 9PM, 21+ ID required. $1 PBR ALL NIGHT! $10 tickets, $12 day of show. SMOKING is ALLOWED at Inferno! $1.50 SELECT PINTS and $1.50 RAIL MIXERS from 9-10PM.
sun
mon
tue
wed
thu
fri
sat