Contamination w/DJs
James Patrick, Eidolon & more
Friday September 30 2005
Eucalyptus Productions
is proud to present
Contamination
. In August and September,
Eucalyptus
presents two months dedicated to celebrating midwest
TECHNO
! Complete with too much bass and not enough lighting, September brings: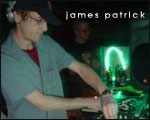 JAMESPATRICK
Minneapolis, MN -- Microhouseminneapolis, Microphono, Vital Vinyl
-- It's been a very busy year for Jamespatrick. Early in 2005, he helped create
Microphono
- a label for unique sound palettes, critical thought processes, and emotional effect. This spring JP's Friday night events at the
Dinkytowner Cafe
in Minneapolis saw artists such as: Someone Else, Geoff White, Algorithm, Sammy Dee, and Cabanne - just to name a few. This summer James has been touring the east coast, and has just retuned from an extended visit to Germany. All this while maintaining his position as creative director at
Vital Vinyl
! Come early to hear records that other DJs won't have for months!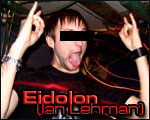 EIDOLON (IAN LEHMAN)
LIVE PA -- Minneapolis, MN
--
Modern Recording Company
,
Abiotic Recordings
,
Microphono
-- Ian Lehman is one of the hottest emerging techno producers from the United States. In 2001, he formed
Abiotic Recordings
with long-time friend Dustin Zahn. He quickly moved on to release multiple solo records on a plethora of labels such as Drumworks, Compound, Blueline, Hidden Agenda, and more. Together with Dustin Zahn he's also formed 1/2 of The Attack People, whose releases span across labels such as Abiotic and Mankind. His tracks are linear, dark, and heavily textured DJ tools written exclusively for techno's most daring DJs.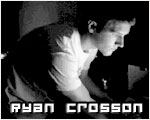 RYAN CROSSON
LIVE PA -- Detroit, MI
-- Trapez,
Tic Tac Toe Records
, Beretta Grey -- Ryan Crosson began producing in late 2003, with a goal of separating himself from other artists by finding a sound all his own. Trading practice time behind turntables for time in front of a computer screen, Ryan focused on deep bass lines and quirky rhythmic noises. He prides himself on hard work and dedication, and after a little less than a year of producing his hard work began to pay off. In late summer 2004, Ryan was asked to become a part of
Beretta Music Detroit
, a tech-house label that was about to begin a sub-label called Beretta Grey. In the fall of 2004 Ryan signed some of his music to Trapez Records, a division of
Traum Schallplatten
out of Cologne, Germany. 2005 should serve to be a busy year for Ryan - this past June, Ryan released 4 tracks on
Archipel
, a net-label moving to vinyl out of Montreal. Keep your eyes open for tracks released on a compilation on
Tic Tac Toe Records
(Denmark). A Beretta Grey release is also in the works for later in the year. For more info on
Contamination
, e-mail [claire[at]midwestbass.com].
• Doors at 9PM / 21 ID required. • $8 cover all night. • $1.50 SELECT PINTS and $1.50 RAIL MIXERS until 10PM.