The Hat Party, Droids Attack,
& Full Vinyl Treatment
Thursday August 25 2005
Inferno
presents
BURN
, featuring
LIVE
performances from local and regional bands. Tonight features: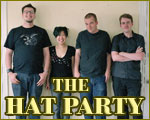 THE HAT PARTY
Madison/WI
- The Hat Party writes songs for a lost era. New Wave keyboard ambiance clashes with dissonant post-punk guitars and driving basslines duke it out with frantic drums. Familiar elements in an unfamiliar mix - or pop as it should have been. Stripped down, stark naked post-punk anthems. Sometimes brutal, sometimes beautiful, always memorable.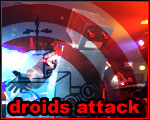 DROIDS ATTACK
Madison/WI
- Hard Rockin' and relentlessly fun, the cyborg-friendly DA blasts into a musical space pioneered by the MC5 and the Stooges, and turn the tried and true into an eardrum-massaging celebration of controlled noise.
FULL VINYL TREATMENT
Madison/WI
For more info or to discuss booking for
Burn
, contact [jamie[at]clubinferno.com].
We don't believe in bans - smoke 'em if ya got 'em!
• Doors at 9PM, 21+ ID required. • $5 cover all night. • $1 PBR ALL NIGHT as well as $1.50 SELECT PINTS and $1.50 RAIL MIXERS from 9-10PM.