Euphony
Friday July 8 2005
Eternal Productions
and
Stealth Noise Unit
present
Euphony
. This month features a night of
D&B, IDM,
and
BROKEN BEATS
, with: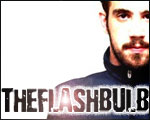 THE FLASHBULB
LIVE! (Chicago)
An appropriate biography for Benn Jordan (the man behind
The Flashbulb, Flexe, Q-bit, Acidwolf,
and countless other pseudonyms) would be in the form of a stock ticker constantly scrolling up to date information on his multiple careers and endeavors. He is well known around the world in electronica for his abrasive trademarks multiplied with a level of diversity that makes just about anyone's head spin. His catalog of releases is so extensive and obscure that there is no place on the internet that can accurately and completely list them. It also seems that Benn has replaced sleeping with film composing, and has recently mirrored his accomplishments in the film industry. But don't be intimidated by his amount of work, the quality-for-quantity rule does not apply here. Pick any album out of this long discography and you'll find that it has its own place, and sometimes its own genre. In live performances,
The Flashbulb
often raises the laptop performer's bar by bringing midi guitars and foot-controlled heavy effect units along with him on tour.
RADIATA
(Chicago)
TIMIDTIM
(Madison) For more information on
Euphony
, e-mail [djnix36[at]hotmail.com].
• Doors at 9PM / 21 ID required. • $6 cover all night • $1.50 SELECT PINTS and $1.50 RAIL MIXERS until 10PM.