Spoil
Friday June 3 2005
Illuminatus Productions
is proud to present
Spoil
. This month features a night of drum and dass, booty house, a live band, and various other hip-shakin beats, with:
UFO!
[Phunckateck] Drum & bass maverick UFO! uses the lastest software to generate and process sounds and loops in live realtime action. He has added a new dimension to his mixing skills by using his laptop to enhance his sets, incorporating tracks and sounds directly from his laptop while dextrously continuing to mix records.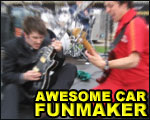 AWESOME CAR FUNMAKER
[Madison] We play music. We play dance-able, rock-able, throw yourself on the floor and flail around-able music. We try to have
fun
while we do it. No small type, no hidden fees, no man behind a curtain.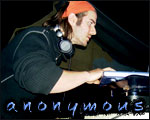 DJ ANONYMOUS
[
Addict Records
] vs.
DJ SUNSHINE
NAPOLEON
vs.
PEDRO
For more information on
Spoil
, e-mail [hypnoassassin666[at]yahoo.com].
• Doors at 9PM / 21 ID required. • $1.50 SELECT PINTS and $1.50 RAIL MIXERS until 10PM.