$index = intval($_REQUEST["i"]); ?>
Contamination
Friday June 24 2005
Eucalyptus Productions
is proud to present
Contamination
. This month features: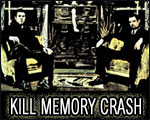 KILL MEMORY CRASH
(live - industrial/idm/electro - Ghostly International - Detroit, MI)
A live PA with laptops, keyboards, drum machines, and vocals, Kill Memory Crash are touring in support of their soon to be released new full-length
'American Automatic'
; a full-length follow-up to
'When the Blood Turns Black'
, a storming renaissance for industrial music with an amazing combination of live and programmed drums.
DEWEY DECIMAL
(live & dj set - idm - Zod Records / 37h3r.net - Milwaukee, WI)
For more info on
Contamination
, e-mail [claire[at]midwestbass.com], or check
www.midwestbass.com
.
• Doors at 9PM / 21 ID required • $6 cover all night • $1.50 SELECT PINTS and $1.50 RAIL MIXERS until 10PM.
sun
mon
tue
wed
thu
fri
sat