Chrome: Rubber Bizarre
Saturday April 30 2005
Chrome
- the state's biggest club night focusing on underground hard beats, featuring veteran DJs mixing a brutal blend of new and classic
ELECTRO, INDUSTRIAL, EBM, POWERNOISE, TRANCE, GOTH,
and
SYNTH
. Tonight
Madison Dungeon
presents the
RUBBER BIZARRE
- a celebration of the erotic sensuality of latex featuring
MISTRESS JEAN
- aka
RUBBERELLA
.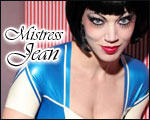 Mistress Jean has traveled the world performing, learning and teaching in the kink community. She has been featured in magazines such as DDI, Skin Two, Marquis, Leg Show, Leg World, Hustler, and Taboo, as well as HBO and the Playboy Channel. Local stores will be present selling latex toys and fashions.


Hard beats provided by the all-female line-up of DJs
BLOODLOSSGIRL
and
SIBERIA
. For more information on
Chrome
, e-mail [whiterabbit[at]clubinferno.com].
• Doors at 9PM. 21 ID required. • $5 if dressed in latex, $7 if dressed in other fetish attire, $10 otherwise. • $1.50 SELECT PINTS and $1.50 RAIL MIXERS until 10PM. • Arrive early, capacity is limited!