SINE
Friday March 18 2005
Subsonic Harmonies
is proud to present
SINE
. Join us at
SINE
this month for the one year anniversary of the first
Subsonic Harmonies
party! Featuring: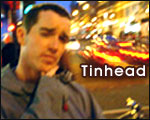 TINHEAD & KYND
This super crime-fighting techno duo knows what true techno is all about and never ceases to bring fresh tracks and ideas to saturate your ears and mind. Over the last few years they have dug in their production heels and become a defining part of the madison sound. Sure to impress!
T&A LIVE!
A few months back we brought you T&A Live, the insane monkey lovechild of local producers Alan! and Tyler. Those who were lucky enough to attend experienced a totally live, deep and yet organic set not to be soon forgotten. Don't miss them this time around!
MATKINS
You know him, you love him... except when he whups ya at bowling and dances around you going WOOOO! Well, you probably still love him afterwards, but you are secretly plotting to beat him someday so you can gloat back. Anyways, good DJ, good stuff. Come early!
• Doors at 9PM / 21 ID required • NO COVER before 10:30PM, $5 after • $1.50 SELECT PINTS and $1.50 RAIL MIXERS until 10PM.