Contamination
Friday February 25 2005
Eucalyptus
is proud to present
Contamination
. This month features:
JAK RICHARDS
(Rick S) – Milwaukee, WI - Interlobate, Midwestbass - minimal techno
Rick will be opening the night with an experimental mix of all things minimal. Jak to the sound of the underground!Having played throughout the Midwest with very established names in both the electronic music industry as well as the electronic music jam band scene, Rick has been interested in exposing a variety of crowds to a minimal style of different music genres with an experimental edge.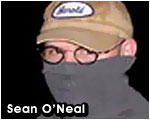 SEAN O'NEAL
(Someone Else) – Philadelphia, PA - DJ and live set - Tuning Spork Records, Foundsound Records, Fuzzy Box Records - minimal techno
As a DJ, Sean is known for spinning a anything from minimal techno to house. As a producer under the moniker "someone else", he's known for throbbing glitchy minimal techno. When he's not DJing or producing, he can be found working at
611 Rcords
or writing for
XLR8R
. Tonight Sean will start with a DJ set, and end with a live PA. Sub.bass in your face! For more information on
Eucalyptus
events, e-mail claire[at]midwestbass.com or check
www.midwestbass.com
.
• Doors at 9PM. 21 ID required. • $1.50 SELECT PINTS and $1.50 RAIL MIXERS until 10PM.