All The Pretty Horses,
Sensuous Enemy, & more
Thursday December 1 2005
Inferno
presents
BURN
, featuring
LIVE
performances from local and regional bands. Tonight features: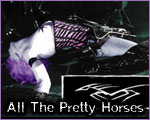 ALL THE PRETTY HORSES
[Minneapolis/MN]
Fronted by the six-foot-plus (in heels) transgender performance artist Venus on guitar and decked with feathers, leather, and sequins, Minneapolis' All the Pretty Horses may be one of the most visually-arresting bands you may ever see. Combine their haunting, hard-edged music touching both on Ziggy Stardust and Black Sabbath simultaneously with the stage act, and you've got performance art at the highest level.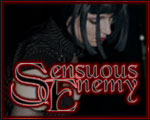 SENSUOUS ENEMY
[Madison/WI]
SCREAMIN' CYN-CYN & THE PONS
[Madison/WI]
For more info or to discuss booking for
Burn
, contact [jamie [at] clubinferno.com].
We don't believe in bans - smoke 'em if ya got 'em!
Doors at 9PM, 21+ ID required. $6 cover all night. $1 PBR ALL NIGHT as well as $1.50 SELECT PINTS and $1.50 RAIL MIXERS from 9-10PM.