Full Vinyl Treatment, Things
Fall Apart, & Bound By Honor
Thursday November 10 2005
Inferno
presents
BURN
, featuring
LIVE
performances from local and regional bands. Tonight brings:
FULL VINYL TREATMENT
[Madison, WI]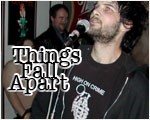 THINGS FALL APART
[Madison, WI]
In the autumn of 2002 three friends, Dec Dwyer on drums, Jethro Ford and Chris Langbehn on guitars, with nothing more than the music in mind, began to flesh out a handful of driving rock songs. Over the next two years the part-time project's sound became more and more refined, and the intention behind the songs became more and more serious. By that spring it was clear that this band was no longer just a side project, but a group with a relationship and a sound all its own. Things Fall Apart perform with a voracious intensity, with raw energy playing host to sharp, honest, and conscious lyrics.
BOUND BY HONOR
[Watertown, WI]
For more info or to discuss booking for
Burn
, contact [jamie [at] clubinferno.com].
We don't believe in bans - smoke 'em if ya got 'em!
Doors at 9PM, 21+ ID required. $3 cover all night. $1 PBR ALL NIGHT as well as $1.50 SELECT PINTS and $1.50 RAIL MIXERS from 9-10PM.