Heroine Sheiks, Cats
Not Dogs, & Blamm-O
Thursday October 20 2005
Inferno
presents
BURN
, featuring
LIVE
performances from local and regional bands. Tonight brings: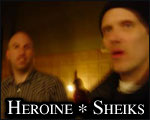 HEROINE SHEIKS
[Manhattan, NY]
- Many experts classified The Heroine Sheiks as odd and primitive throwbacks, though others pointed out that the musical structures of these creatures were absolutely unique (some even thought the species of higher intelligence.) The scientific mainstream was unconvinced.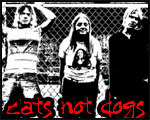 CATS NOT DOGS
[Madison, WI]
- A crashing, belligerent and overdriven statement of straight-up aggro-rock; a band whose often-times elliptical lyrics, laconic vocals and alternately head-bobbing and banging guitar riffs place them somewhere between convention and improvisation.
BLAMM-O
For more info or to discuss booking for
Burn
, contact [jamie [at] clubinferno.com].
Doors at 9PM, 21+ ID required. $8 cover all night. $1.50 SELECT PINTS and $1.50 RAIL MIXERS from 9-10PM. INFERNO: still smokin' after 8 years.