Contamination
Friday January 28 2005
Eucalyptus
to tonight's event,
"Contamination"
. Minneapolis MN's
JAMES PATRICK
opens the night with an icy cool blend of
microhouse and minimal techno
. Closing out the night is long time Eucalyptus favorite,
BRYAN ZENTZ
(aka: Barada, Faculty X).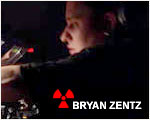 Based in Virginia, Bryan first made his name in electronic music as Barada, releasing on Richie Hawtin and John Acquaviva's legendary
Definitive
label. In the fall of 2003, he started his own label
"Disruptor"
. His mix of
techno, dub and house
is sure to make your feet move.
Subversive
from Milwaukee will be providing extra sound.
Eucalyptus Productions
is a close-knit group of friends dedicated to electronic music based event promotions. On Friday, January 29, 2005, they will celebrate their eighth year of event promotion. Though based in Madison, Eucalyptus threw their first show,
"Porcupine Rocketship"
in Rockford, IL on Saturday, February 2, 1997. In the next four years, Eucalyptus would continue to throw more than 20 large-scale rave events through out the Midwest. In January of 2001, Eucalyptus decided to focus on smaller events, and found a permanent home at
Inferno
. In the next 4 years,
"SPL"
became one of the most popular dance events in town, featuring artists such as: Gaetano Parisio, UFO!, Lusine, Matthew Dear, Mike Dearborn, Dara, Flux, Jake Fairley, Miles Maeda and Phantom 45. As the New Year rolls in, Eucalyptus will keep the last Friday of the month at Inferno, with a slightly different format, featuring special guest promoters through out the year. As always, the focus will be on high quality regional and international talent on a high quality sound system for a low cover charge. For more information on
Eucalyptus
events, e-mail claire[at]midwestbass.com or check
www.midwestbass.com
.
• Doors at 9PM. 21 ID required. • $8 cover all night. • $1.50 SELECT PINTS and $1.50 RAIL MIXERS until 10PM.