$index = intval($_REQUEST["i"]); ?>
Euphony
Friday October 8 2004
Eternal Productions
and
Stealth Noise Unit
bring you the best of the best at Inferno nightclub with a new monlthy name:
EUPHONY!
You've all placed your votes, and the winners of this month's night have been chosen wisely! On this night you'll see these four DJs
exchange their crates
with one another and see what they can do with it! This will be a
very
entertaining night, full of goods for the ears!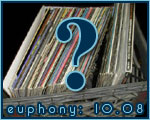 01-02am:
ANONYMOUS
12-01am:
KEE
11-12am:
KRAFTY
10-11pm:
PAULIE
So who'll be playing what? The crates will be on stage lined up with a black sheet covering them. The DJ will then point at whichever crate they choose, and play a track from that crate!
• Doors at 9PM / 21 ID required. • NO COVER before 10PM, $5 after. • $1.50 SELECT PINTS and $1.50 RAIL MIXERS until 10PM.
sun
mon
tue
wed
thu
fri
sat